Bible Fellowship Groups
Life is better together. The life-blood of our church is found in the grace-filled environment of our small groups, or Bible Fellowship Groups (BFGs).
Existing small groups are meeting virtually. Your BFG leader will contact you with instructions.
If you are not already in a group, join us.
CONNECT HERE
Let us help you find the right group for your life stage.
---
For more information, contact: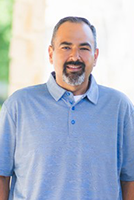 Jimmy Smith
Generations Pastor
E-Mail: