Reengage
When and Where:
Kick-Off Sunday, Feb 14 | 4:00-5:30p | CH-209
Sunday, Feb 14-28; Mar 14-28; Apr 11-25 (not meeting for Spring Break and Easter)
NEW LOCATION! CH-209 Click for Campus MAP
Cost & Childcare:
$15/couple for two workbooks (no childcare)
$40/couple for two workbooks and childcare
Childcare opens at 3:45
What is Reengage?
Reengage is a marriage enrichment program.
Marriages in any condition can benefit, whether you are struggling to get along, your marriage is broken, or you simply want to grow closer together as a couple.
Reengage examines God's design for marriage and applies principles from the Bible to guide couples towards growth in their relationship with each other.
What can we expect?
1. Receive encouragement by hearing stories from other couples that have experienced victory in the midst of hard times.
2. Be placed in a small group with a facilitator couple and other couples to work through the curriculum.
Here are some short informational videos from Generations Pastor, Jimmy Smith to help you get a better understanding of what to expect:
Three Main Components:
Large Group - Time of testimony or teaching;
Small-Group - Discussion over homework facilitated by a leader couple
Workbook - Homework (10-15 minutes each week + discussion with spouse about the homework)
Small-Group Structure:
Couples in different seasons of life will be grouped together through the entire program.
Attendance: If you think you will miss more than two sessions, it becomes difficult to build community with your group, so we ask that you wait until the next time re|engage is offered to take full advantage of this program.
It Takes Two: It is important for both spouses to attend the sessions, so if your spouse can't or won't come with you, it may be best to wait until the next semester to join in a group.
Is this only for those who are experiencing marriage problems? No...re|engage is for any couple, whether you would rate your marriage as a 2 or a 10, every couple can have a great experience through re|engage.
Can we invite friends to join our small group? Your friends are welcome to join re|engage before the small groups are established, however, in order to foster community and trust within your small group, each group will be closed to newcomers after week two. If your friends miss re|engage this semester, encourage them to sign up for the next semester.
What couples are saying about Reengage:
Read stories from Reengage couples and learn more about the program.
For more information, contact: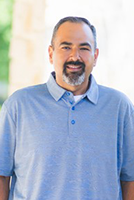 Jimmy Smith
Generations Pastor
E-Mail:


Kathy Carpenter
Generations & Music Ministries Assistant
E-Mail: