Updates from Team in Cambodia
Posted by on
Monday, October 22:
Yesterday, Michelle's team visited a Cambodian prison. Over 200 gave their lives to Christ as Lord and Savior. Today, they returned to the prison and another 150 more accepted Christ. Our whole team collected money to put 100 Bibles in the prison. Vince lead a woman to the Lord yesterday. She was from Cambodia but lives in California. It was her first time back to Cambodia since moving to the US. Vince's group went to her family's house. She heard the Gospel then. She heard the Gospel at the local church in Khmer and English and was still reluctant. Vince spoke with her after the service. He said to her God is pursuing you. What is holding you back? Vince told her God brought you from California. He brought us from Texas & Georgia to meet you in Cambodia to tell you the Gospel.
Wade's team had 88 decisions today but his favorite moment was when a new believer immediately discipled his sons. Wade's team trained him, but he did it. Rapid obedience. Vince got to commission a church leader that was part of a house church. He also shared at the house church with 2 unbelievers about how our body is a temple. This resonated with them since Buddhists go to the temple. They have spirit houses outside of each Buddhist home. He talked about how the Holy Spirit can be in you. You don't need a wooden box. You need Christ. My team split into 2 today and we had 57 accept Christ. One of my favorite moments was when a Buddhist grandmother cut off her Buddhist bracelet. This is a very big deal. She is saying visually I'm not a Buddhist anymore. I pray she will be a legacy to them. The grandchildren accepted Christ as well.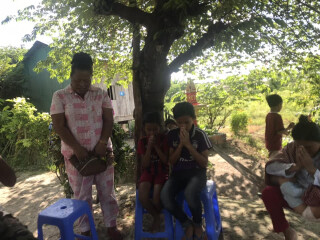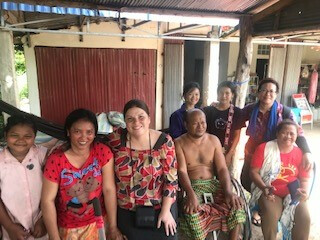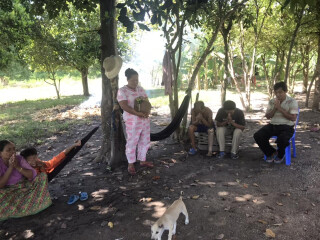 Sunday, October 21:
Yesterday, Vince V. preached at our opening rally. We have 11 teams, 55 churches, 25 national pastors, 30 local pastors, 27 Americans, 1 from Myanmar, 1 from Indonesia, & 1 from Malaysia. The opening rally is when we all gathered and found out our teams. Today, we made visits and also helped in church services. Vince and Wade both preached in the church services. I shared the Gospel pictures in both of my services. My team had 12 new believers today and 55 gospel shares. Wade had 80 new believers. I haven't heard Vince's or Michelle's numbers yet. The Cambodian people are very kind and gracious. Most claim they are Buddhist but mix in ancestral worship and other Gods. They have been very receptive so far. Monday-Thursday we will do home visits and share the gospel. On Friday, we will do some visits, have a Baptism ceremony, & closing rally. God is at work and we get to see the Harvest. It's an amazing thing. I will send reports as often as I can. Thank you for praying. We feel your prayers.
Vince preaching at opening rally.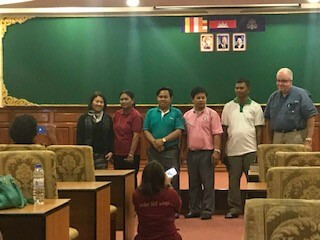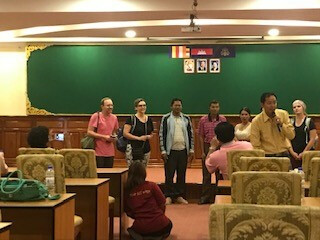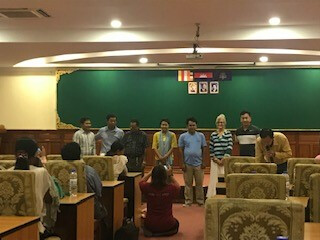 Cambodia Teams