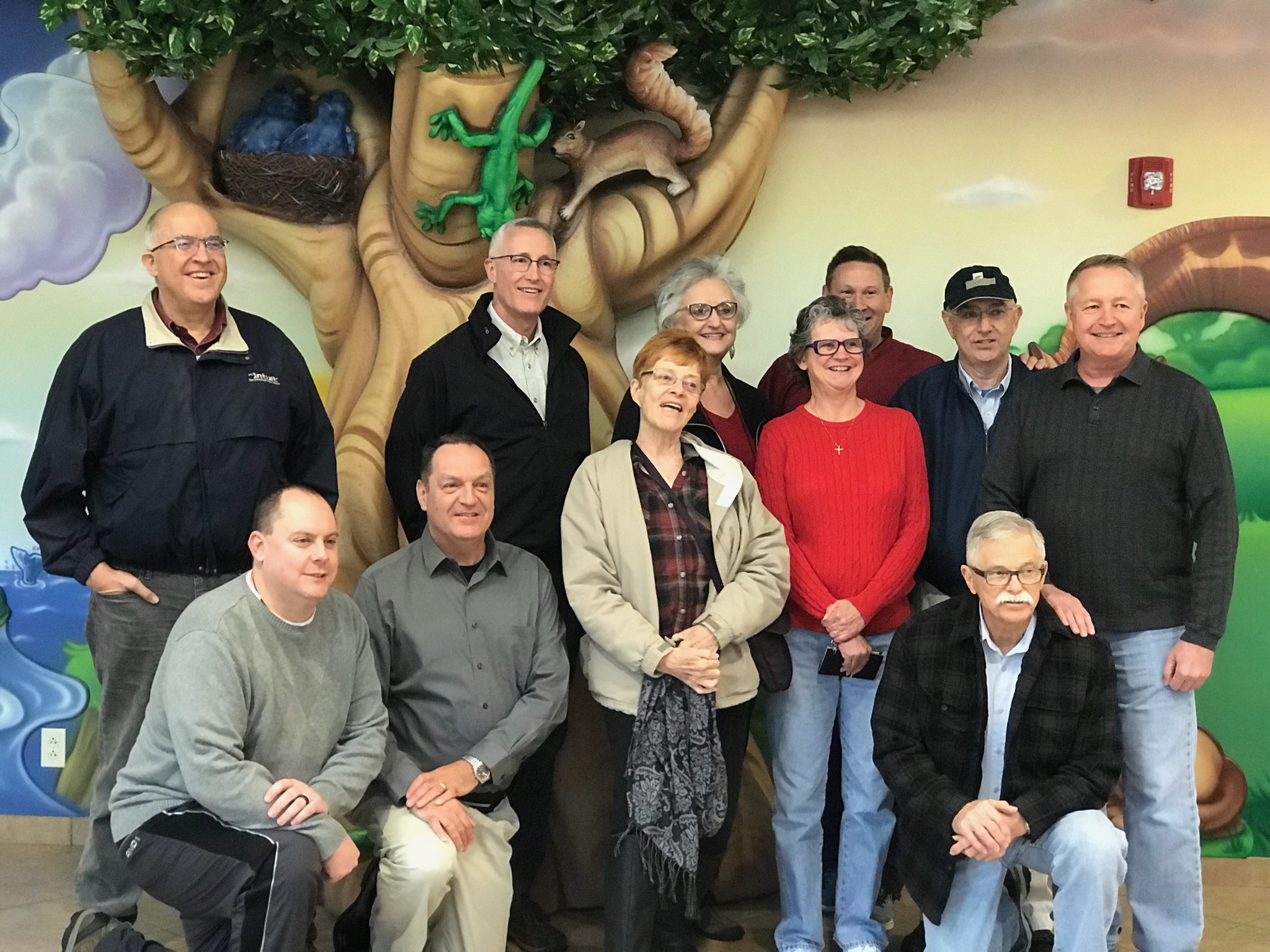 Stories from Kenya
Posted by on
As you know, technology in parts of Africa is spotty at best. Now that the team is back in the US, here are some stories from some of our team members and a final recap from the team lead at International Commission:
Robert D: My favorite story from the trip happened on Tuesday. As we were going through the village, two young men in their early twenties stopped me and asked if I was the one sharing God. I told them I was and asked if I could share with them. They said yes, of course. As I was sharing the Evangecube, I could see the excitement on their faces. I could feel the Holy Spirit was with us. When I finished and asked if they wanted to accept Jesus, they both said yes. And as they were praying, both young men lifted their arms towards heaven. It was absolutely amazing, and I will never forget it.
---
Larry K: Feb. 28, 2018, I was able to present to children in grades 1-6 at a Catholic Elementary school with the local pastor. Total attendance was 1090. This was their first ever encounter with a Caucasian person and Gospel Presentation, Evangicube with prayer. The local pastor was on the public school board and we presented at that school earlier with 120 present.
---
Don M: Pictures and captions:
Taken in a church on the first Sunday of the trip. I looked down and saw two pieces of straw on the floor and saw as a reminder of the author of the harvest.
Witnessing to three young men on the road who accepted Christ.
Taken in a field. The translator Eric is using the Evagecube to share the gospel. The two individuals made decisions for Christ.
Three carpenters building a house were presented the good news and accepted Christ.
Taken in a church, reading the parable of the prodigal son by the light of a window.
---
John L: I preached at school with 407 students. Don't know how many actually received the message, but sure many did.
One story that sticks out to me is I was with a pastor who was preaching at his church. The conditions of the church were primitive...dirt floors, no plumbing, no power, and a leaking roof. The message to his congregation was to get out of their comfort zone and go spread the word. Not much different message than what we hear in Allen. I guess people are the same no matter where they live!
Another one that struck me: I was walking with my translator as we were ending our day and heading back to our hotel. We noticed a rainstorm was quickly approaching. He didn't want me to get wet, so we ducked into an elderly lady's home. She started to cry tears of joy. She told us that before Christmas, she had a dream that a white man (which she had never seen a white man before in her life) would come to her house and tell her a story that would change her life. I shared the gospel with her and she accepted Christ.
This is a group of people who stopped a meeting they were having so I could share with them. Each one accepted Christ!
When you count the total who went out during our stay it was 104 of us (including 43 pastors and 2 national students from other areas of Africa) sharing the gospel. Five members of our team counted a total of 760 souls saved through Thursday night. Will have more numbers as the week continues. So many are hungry to hear the word and to have lives changed for eternity! I'm blessed to be used by God to do His work.
---
Recap from International Commission:
Final Number of Participants going to Kenya - 19 (11 TX; 1 MO; 3 OK; 1 TN; 2 CA)
21-23 Feb - travel dates from home airports to DFW where we all converged. We flew to Heathrow, London then to Nairobi and took a night lay-over then flew to Kisumu and took a 2.5-hour bus ride to our final destination in Busia, Kenya.
Opening Rally on Saturday morning with a church full people. There were 45 churches; 72 national participants and 18 American participants. Pastor Chad gave the encouraging sermon based on the Great Commission verse.
From Sunday through Friday the team participated in fieldwork from 8 a.m - 6 p.m. There was a daily house to house visit; school visits and church services. Faithfully sharing the GOOD NEWS.
The team gathered during every morning meal for a devotional led by volunteers. We ate lunch in the field with our local church then came back home to the hotel for supper and to share testimonies.
Victory Rally was on the Saturday, March 3 with overflowing of attendance. Great worship and testimonies. Chuck M. delivered the powerful message of challenge to the churches to do the follow-up. The Bibles were distributed to the churches. Then the Record of Decisions was announced: There were 18,950 men, women and students who indicated they prayed to receive Jesus Christ into their hearts and make Him Lord of their lives. May the Lord be glorified in this result. We had a lunch fellowship and proceeded back to the hotel.
Sunday, the 4th – we traveled back home. God is so good.
This project is so amazing that the devil is so unhappy with what God allowed each one of us to do. There were a lot of incidents that happened which would discourage us and makes us grow weary. Some got sick, one accident (thankfully not so major), some flights were messed up and more little glitches of incidents in between. Every incident, God allowed it to happen for our own good [Romans 8:28] (which means, out from them, the team GREW more deeper in their relationship with the Lord by being dependent on Him more rather than ourselves). Through the empowerment of the Holy Spirit and the prayers of the prayer warriors back home; God's project and harvest in Kenya was successful! It is indeed a victory in Jesus! I am so proud of the Kenya Team.
There are many good stories and testimonies and here's one:
"Tuesday we walked into a yard where several older people were gathered, they were happy to see us and invited us to sit with them. I soon realized this was a drinking establishment as more people came and sat down. I shared my testimony; explained that the Holy Spirit would work in their lives and show them another way to make a living and the ability to stop drinking. The women who were making the alcohol prayed to receive Christ as did some of their customers.
Saturday morning – one of the women came to me to tell me that since she came to Christ, she believed that the Holy Spirit would provide new work for her and she gave up brewing alcohol and even got rid of the cooking pans. She then told me that a man had died on her property recently and she was in trouble with the police. The police came to arrest her 2 days ago for brewing and serving illegal alcohol, but when they found she had given it up and found Christ, they left her alone. She wanted me to know that because I had come to her house and encouraged her and led her to Christ – that she is a free woman today.
She asked for more prayer and encouragement and she left glowing in Christ."
We appreciate every participant from FBC Allen who responded to the Kingdom's call. We continue to pray for Pastor Chad's full recovery. Thank you so much church family! We encourage you to check out the future projects for this year and pray where God will lead you next.