From South Asia
Posted by on
Our team of two arrived safely and joined others in the mission.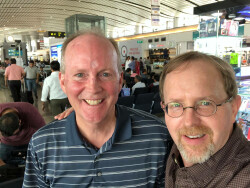 We are doing well. There is a great hunger for the Gospel here.

Wade ended today at a small home church, where they brought many friends and all accepted. Then one young woman wanted to take us to her house, and as we stood in front of the home and drew a crowd of about 40 at least, most of them prayed. Tremendous stories and a great witness of the Holy Spirit's work ahead of us.
Was at a very small rural farming community and a dynamic young woman who hosted a home church invited 10 of her friends - all of whom accepted. Wade taught her how to use the cube and left it with her; excited to see what God will be doing through her in the years to come.