Eurpoean Team Update
Posted by on
Wednesday, July 24:
Yesterday, we spend 2 hours in prayer, Bible study, and worship with the local believers in the morning. In the afternoon, we broke up into teams and went to a nearby park and tried to talk to people and share the gospel. People in this country appear to be distant at first, but once you talk to them, they soften and enjoy the conversation. We had many gospel shares, and spiritual conversations with people in the park. One girl we spoke with yesterday said she was going to meet us back at the park today, as she wanted to hear more. Pray for her, and pray she comes back today. What we continue to be amazed by is our translators. They are not believers, one is very vocal as to her disagreement of our beliefs and what we are doing. But as the week has gone on, each of their hard hearts has seemed to soften a little more every day. They ask more questions daily, they want to hear more stories from us as to how God has worked in our lives and how we know He is real. You can see they are thinking about what they are hearing.
The girl that came back to the hotel to hear more on Monday, actually showed up Tuesday to go out with us and translate. She is not a believer. After hearing her first gospel conversation with someone at the park yesterday, and translating it for us, she was visibly emotional, and commented on how beautiful the story was. God is working. Please continue to pray for us, as we will go back into the parks again today to share the gospel. Please pray specifically for our interpreters, that God would continue to work on their hearts each day.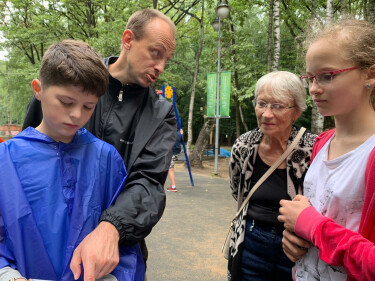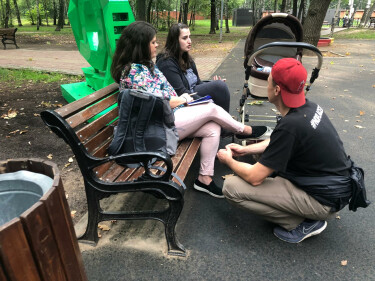 Today started again with an extended time of prayer and Bible study. Later in the day, we went into the marketplace to evangelize. Some of us went to a park, some of us went to a large mall/IKEA shopping center. One team went to a home visit a church member had set up, where the mom was a believer but the son was not. We had many gospel shares and conversations. The people here are very nice and open to talking, but overall have a very negative history/opinion of the church/religion. They have a hard time seeing Jesus and not religion. From that standpoint evangelizing here is challenging. However, it is also encouraging in that many are open to engaging in conversation with us about it. Again, please keep praying for our translators, as we see that as the largest open door for us here. Tina has been working on sharing with her interpreter all week. Groups changed some today, and this interpreter was assigned to Jill. The interpreter was so excited to show Jill the 3 circles sticker she put on her phone. Jill asked the girl if she could explain what the circles meant and she did. She said this was all new to her, and that she had never heard much about Jesus, and stated she was still processing all of it. I will say, the people in this country seem to take a decision to follow Jesus very seriously. Please keep praying for our remaining few days here.