Cambodia Team Update
Posted by on
God hears your prayers! Please continue to lift up the people in Cambodia and the team as they wrap up their time there.
Saturday, October 27:
A Vietnamese pastor ministering in Cambodia to the Mekong River people heard Vince was here. The Mekong River people are Vietnamese people who escaped during the Vietnam war, but Cambodia doesn't want them so they live on the river; nowhere to go. The pastor met Michelle in August when she came to share the Gospel with the water village. He asked Vince to come & train his church leaders on the river. We had already planned to go as a cultural and sight-seeing visit. Our whole group got to sing songs with Pastor David's church and we prayed together. Vince, Michelle, Wade, four others, and I stayed back to train his church. We trained them on the Gospel pictures & the Evangecube. They practiced both tools in groups. Then we immediately went out by canoe to houseboats. We got to share the Gospel with three homes (14 people) and one accepted Christ. One person from Pastor David's church also became a believer. It felt like a harvest training at FBC Allen. God knew Vince & Michelle needed to be on this trip. Pastor David lives in Siem Reap and pastors a church there. Then, he goes by boat to pastor at the water village church. There are 20,000 houseboats. The average home has seven people. He has a big mission field, 140,000 people. We were able to leave five sets of Gospel pictures, four Evangecubes, & some of our testimonies with his church. His prayer requests are...
Freedom from persecution from fellow Vietnamese for sharing the Gospel. Most are Buddhists.
Discipleship for the four church leaders that went out with us.
Two of the church leaders have several daughters and typically, sons help fish. Since they don't have sons, it's hard for them to evangelize, because they also need to earn a living.
Please remember Pastor David and the Mekong River people in your prayers.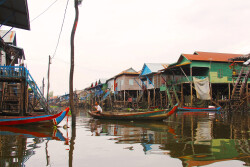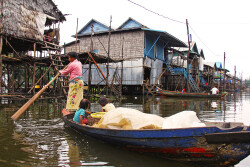 Friday, October 26:
We had approximately 130 get baptized & 15,000 gospel track bookmarks given out.
5,126 indicated that they received Jesus
7,213 people heard the Gospel
It was an incredible week!
Eng, the one who was demon possessed and we prayed for got baptized today. Yesterday, I got to share the Gospel with one of our Pastor's parents. I talked about how God had a plan for His Son. Just like He had a plan for your son to be a Pastor. They said they wanted to follow Jesus. I asked the Pastor to lead his parents in the sinner's prayer. I'm sure it was a moment he has been praying for, for years.
Wade & his team got to go into a school and 152 children made professions of faith. If children can't afford school uniforms they can't attend school. Wade said children gathered around outside the gated fence to hear the message. He was able to get them all bookmarks. On the last day, they visited the school, held 3 house church services, & met with 100 people during house visitations. Wade got to baptize today.
Michelle & her team met a young Mom that was lame from the waist down. When she heard Americans were coming. She crawled to them to hear the Gospel. She made a profession of faith. Her husband is blind. He also made a profession of faith. He said, "I'm blind but my heart is no longer blind."
Vince got to meet a Vietnamese pastor who pastors in Cambodia. Through connections of one of our local pastors. Tomorrow, we are going to the water village. It is made up of Vietnamese people who escaped during the war and had no place to go because Cambodia didn't want them. I'm excited about the connections Vince & Michelle have made.
Some people came from three hours away on a flatbed truck to get baptized. I wish I could tell all of the stories. I will try to catch more stories from the FBC Allen team in the morning.